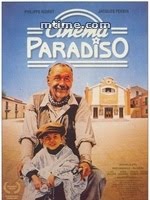 For those of us who have been far away from home for so long, it's hard not to be sentimental at times. As emotional as I am, a small trigger can bring me into tears in seconds =) When my feelings of nostalgia get the better of me, I will immerse myself in nostalgic music to release all my emotions. To me, nothing better to epitomize nostalgic music than Pianist Yanni's Nostalgia and the sound track in movie Cinema Paradiso.
Yanni's Nostalgia
Cinema Paradiso (1988)
"Cinema Paradiso" is a 1988 Italian film written and directed by Giuseppe Tornatore. Its international version won the 1989 Best Foreign Language Film Oscar.
Told in flashback, it tells the story of the return to his native Sicilian village of a successful film director Salvatore for the funeral of his old friend Alfredo, who was the projectionist at the local "Cinema Paradiso". Ultimately, Alfredo serves as a wise father figure to his young friend who only wishes the best to see him succeed.The film intertwines sentimentality with comedy, and nostalgia with pragmaticism. It explores issues of youth, coming of age, and reflections in adulthood about the past.
September 2009
M
T
W
T
F
S
S
1
2
3
4
5
6
7
8
9
10
11
12
13
14
15
16
17
18
19
20
21
22
23
24
25
26
27
28
29
30