The past few weeks have been extremely painful to go through! My beloved cat Dundun was diagnosed with a fast-growing tumor underneath her tongue. Not only her tongue was severely pushed to one side and she was profusely drooling, but she started to have huge difficulty using her tongue to eat or drink on her own.
The result of Dundun's biopsy from her tissue in the mouth came back neg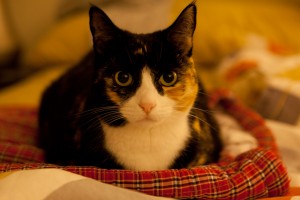 ative initially which was a huge relief for us, but Dundun's condition worsened very quickly and the follow up treatment didn't improve at all. The doctors then suspected that it was a type of bone cancer on her jaw and took more x-rays. The diagnosis confirmed the suspicion and the doctor said unfortunately there weren't many options, and the only way to treat her was through surgery to cut her jaw and to do chemo afterwards. This is obviously a very aggressive procedure and is very painful for Dundun to go through without any guarantee Dundun can survive and have a quality life after that.
Meantime, Dundun's condition deteriorated. It was so painful to see Dundun sit next to food and water wanting to eat and drink but just couldn't do it any more. We know cats can't live more than a few days without food and water, so we sta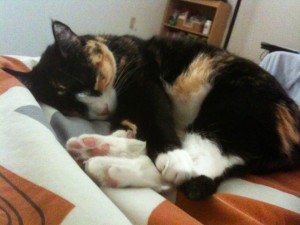 rted to hand feed her through a small syringe tube two to three times a day. At first she was able to get the food and liquid this way, but as the lump got bigger to the point where I couldn't find her tongue which was pushed to the back. Last Friday, Dundun refused to eat or drink anything via the syringe and her mouth started to bleed. We took her to the doctor immediately and the doctor told us that we had to let her go to end all her sufferings.
Dundun passed away in our arms peacefully without pain. My heart was broken into so many pieces knowing I just lost her forever. The pain was excruciating not only because I saw how she went from a perfectly healthy cuddly creation to seriously ill so quickly, but the feeling of guilt that I didn't spend enough time with her to give her more love and attention.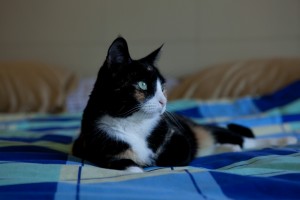 Coping after Dundun's death is an emotionally crushing process. The feelings of sadness and disbelief and grief just keep consuming me piece by piece and are going circles. Dundun was only eight and half years old and we only spend a little over four years with her since our friend brought her to us in 2010. I know I have to find a way to manage my deep sorrow and emotions, so I have decided that the best way for me to cope with my loss is to share with friends who either heard about or met Dundun those wonderful happy memories and moments we had with Dundun via her pictures and videos we took.
My friend who adored Dundun said, "Dundun is one of those cats I would want cat haters to meet because she's so sweet and friendly. Who wouldn't love her!" Dundun just loves people and would always hop right onto you chest and purr and knead.
Dundun, I will love you forever! I know that you are now in a better place with no pain and all the fish and shrimp canned food your heart desires!
November 2023
M
T
W
T
F
S
S
1
2
3
4
5
6
7
8
9
10
11
12
13
14
15
16
17
18
19
20
21
22
23
24
25
26
27
28
29
30